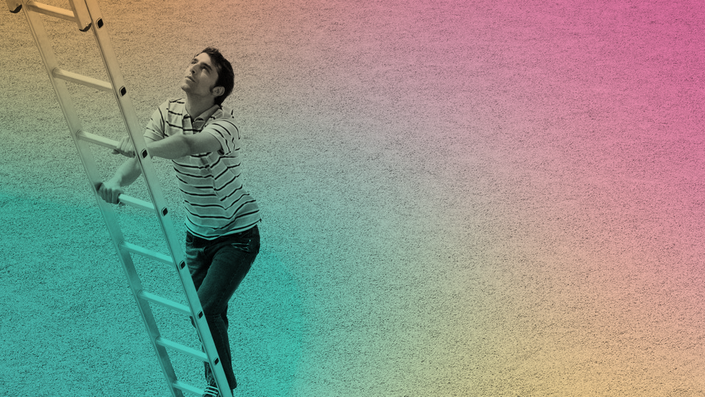 Infinite Motivation Training
Achieve your goals with a smile
"This is great material. I find it very powerful. The demo really made it come alive for me. This moved me along quite well. Thanks again. Fantastic stuff! --- Jonathan E."
- Jonathan E.

Motivation is one of the most crucial and vulnerable parts in learning a language. This course will enable you to dissolve the root mental and emotional causes of any struggle you experience with being a consistent and successful language learner. You will come out of this exploration of your mind having completely dissolved the mental blockages that get in your way and cause you unncessary stress. By applying the cutting-edge Mind Shifting methods taught to you in this course not only will you dissolve your mental blockages but you will quickly attain a mindset in which you feel 100% sure of achieving your goal by your deadline.

This is not a course in positive thinking, this is a course in transforming your mind so that learning German no longer feels like a struggle for you. You'll still have to put in the work necessary to achieve your goals, but you will no longer have to deal with all the nasty mole hills that your mind keeps putting in your way.
Stevie's experience with developing and teaching cutting-edge methods of personal transformation and my experience with language learning and teaching helped shape this course, but it is you who'll bring it to its completion.
Your Instructor
Stevie is the innovator of Mind Shifting, a system of personal transformation that provides life coaches and individuals with powerful methods for overcoming problems and blockages, transforming limiting beliefs and achieving goals with ease.
Through his pioneering work Stevie discovered that the key to achieving challenging goals is dissolving the subconscious counter-intentions that get in our way, and he developed a super-simple and fast-acting system for achieving this. Once you learn this system you will take all the struggle out of learning German and will achieve your German language goal with more ease and joy than you thought possible.

Try the first lesson
If you want to experience the power of this course, try out the first lesson, click below on Preview!
Frequently Asked Questions
---
The course starts now and never ends! It is a completely self-paced online course - you decide when you start and when you finish. There are no other humans involved.
Legally I guarantee that you'll have access to this course for three months because that is what I expect this course to last without me being around in case I die. And I don't want my heirs to be haunted by my graciousness. But as a fellow human being that is pretty much desillusioned by the way capitalism influences our daily lives, I promise to do everything to keep this course alive as long as it takes you to learn German. sG is my beloved child and I also feel like the guardian of something very very precious that I want everyone to get in touch with. I intend to stay in this role until I die and will work on ways to make it surpass me but I can't legally guarantee that. So far I have been around for about 50 years (Korean counting) and sG exists since 2013. The online course is out there and stable since 09/2017. I'm healthy and still in love with my daily work. The average life expectancy for a white male in Germany of my age and wealth lies at around 72 years which leaves you at least 22 more years to learn German with my course. You can luckily also learn German with other materials. The one thing that is for certain though is that things change. Not necessarily my view on capitalism - it pretty much sucks and yet here I am benefitting from it - but the form of my course. Technology is taking giant leaps these days and I'll keep up with it, no problem there so far, but I can't guarantee that you'll have access to the very same course you are seeing in front of you today. I also wouldn't want that as change at smarterGerman means improvement for the better for the learners. So, I hereby, as a fellow human being and calm language enthusiast, promise that I'll do everything to keep this course alive so that you'll be able to finish it one day. On my funeral, please perform a random acto of kindness (RAOK) instead of sending flowers. In case you have any questions, feel free to reach out to me any way you like.
We would never want you to be unhappy! If you are unsatisfied with your purchase, contact us in the first 30 days and we will give you a full refund. This is a rule to guarantee your safety and to build trust. We trust you to not take advantage of this guarantee and therefore we won't ask any questions (other than for mere market research) when you write us a short email to ask for a refund.