Ask me Anything - How long does it take to Become Fluent in German?
How long does it take to become fluent in German?
While I have managed to bring a young and gifted woman to level B2 within three months (see video below) and believe that we could also have achieved that in just two months, the average learner will most likely need anything between one and two years to get to B2 and about six months to get to B1.
While your progress depends on quite a few factors (age, intelligence, knowledge, education, motivation, living situation, to name just a few) it is mainly determined by the quality and amount of work you invest in to reach your goal. If you invest only 30 minutes daily in your German learning, you will certainly need longer to achieve your goal than if you invested 4.5 hours daily (like they do in an intensive German course, for example.)
The problem is that you most likely will have to work in addition to your German learning and those 4.5 hours of studying are quite exhausting and difficult to fit into your daily schedule.
Make sure to set realistic goals and to adapt them according to your working and living conditions. The learning cycle that you find in this book will help you fit your German learning into your day as it can be separated into 20–30-minute pieces, which is much easier than finding 90 minutes in an eight-hour workday.
How many Hours Should I Study Everyday?
Ambitious learners
If you are aiming at German level B1 in 60 days you need to put in at least 4–6 hours a day and follow the instructions of this course meticulously and you will need people to practice speaking with. This course can only prepare you for natural conversation but it is the actual practice that makes you truly fluent. I'll recommend a few websites or places in the next lecture. But be aware that if you feel no urgency nor relevancy to speak but instead only think that you "should" be able to speak (!) German, you'll most likely not succeed. Let me also assure you: you do not have to be able to speak German at all. If you feel even slightly forced to learn to speak German, you are fighting against your own interest. If you use the words "should" or "have to" in your thinking about actually speaking German, you might want to look into this. Who is really saying this?
The problem will be to make sure that you are on track, as you won't have my personal supervision. You have to be very careful not to overestimate your ability to study German. The risk is that, after an initial high, you will stagnate, get very frustrated, and drop the pen for good. Pay close attention to your body. If you notice signs of fatigue, finish the task at hand and take a short break. Scientists suggest that you take breaks in the following pattern:
After 45 minutes, take a 2–5 minute break.
After 90 minutes, take a 15–20 minute break.
After 135 minutes, take an hour off.
If you learn longer than 2h15 minutes, repeat this pattern.


You can't lose the race
Be aware of the differences between learners. We all have different backgrounds and different learning conditions as well as different language-learning skills. It doesn't make sense to compare yourself with other German learners, as that would mean comparing apples with oranges. Imagine yourself as being the only runner in a half-marathon. The only goal is to reach the goal in no matter what time. There are no other runners competing. You can fully enjoy the marathon and I am certain you are aware of the fact that no one ends a marathon successfully without proper preparation. Begin with learning 1-2 hours daily for the first week and then add 30 minutes with every new week until you have reached your optimal learning time.

Less ambitious learners
In case you are working full-time or simply want to enjoy your German learning calmly at a slower, steadier pace, you might get solid results with as few as 60 minutes per day. Even 30 minutes per day might show some notable effect if you follow the full learning cycle of this course. But be aware that with that amount of learning, B2 is quite a few months in the future.

Less more often is more than a lot less often
Rather study 1 hour daily than 2 × 3.5 hours per week. Unless you really have no other choice, try to study every day for a bit rather than squeeze everything into the weekend. Learning takes place when you drop the pen. The more often you drop the pen, the more you step out of your brain's way and the better it can process the information you have taken in.

By when will I reach which level?
Please treat the following numbers with care. They are just a rough estimate based solely upon my personal and professional experience for average results. If you aim at passing an exam I recommend that 4-6 weeks before that exam you start working with a trainer with whom you exclusively (!!!) work on preparing the parts of the oral exam which require training. E.g. Part of every exam is to introduce yourself. You do not need any one to practice this with you. You can do that neatly on your own. If you aim at a B1 exam I strongly recommend that you work with my B1 Exam Hacking course here (enter the coupon ISHALLPASS on the checkout page to get a 25% discount), because it'll save you a lot of time in the exam as well in preparing for it. Despite of what I might say in some of the videos in this course (let me know if you find one where I actually mention it), YOU DO NOT HAVE TO SPEAK German right away nor do you ever have to pay someone to practice speaking with. For now prepare as good as you can. I'll address this topic again at a later point in this course.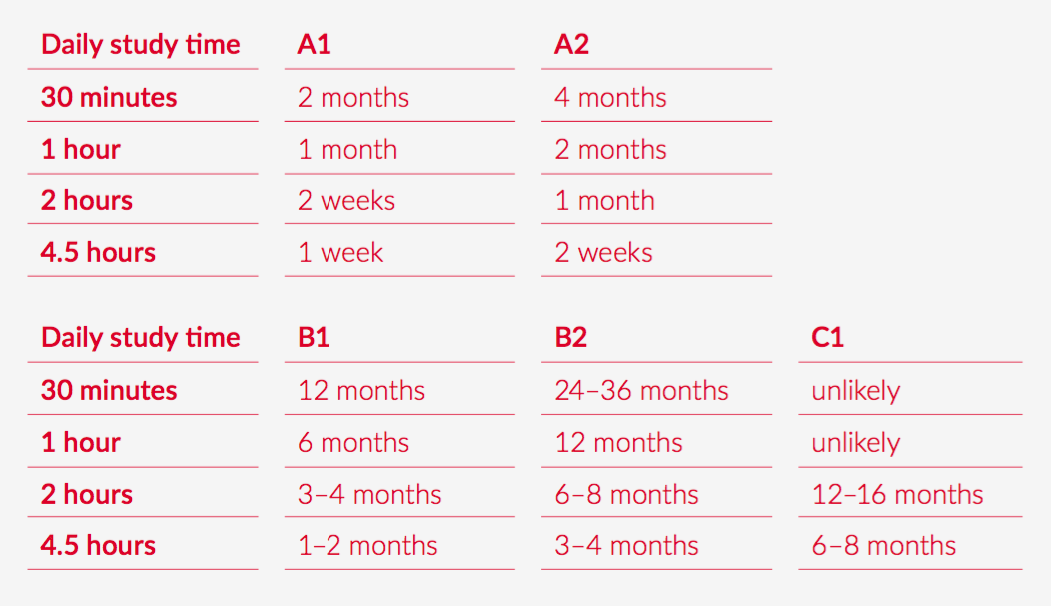 As a comparison, here are the times you'd need in a so-called intensive course in most language schools. In an intensive course, you'd study 5× per week for 3 hours per day plus 1.5 hours of homework (total: 4.5 hours). You'd reach:

A1 → 2 months
A2 → 4 months
B1 → 6 months
B2 → 9 months
C1 → 12 months
C2 → theoretically in 15 months*
* Unless you want to become a German tutor yourself or work as a professor in German studies at a university, you can easily ignore this level.
Haven't got much time? What to do in 15mins per Day
Share your Thoughts
Also try to explain in your own words what you have learned in this lesson.